Hello,

Here is my attempt to improve the hill climbing algorithm used in the enigma app.

Hill climbing finds the plugboard connections by trying every possible way of re-connecting the letters, scoring the decrypted text, and retaining the modifications that improve the score. Some modifications that the program tries have a very small probability of improving the solution, and some others are tried twice during the same pass. Elimination of the inefficient and redundant modifications dramatically improves the speed: the modified program makes three quick passes in the time of a single slow one, and the chances of finding the solution significantly increase.

The new algorithm was tested on 1000 messages, randomly selected from a text in German and encrypted with random M3 Enigma settings. The n-gram dictionaries were generated from the same text.

Here is a plot of the success rate of solving the plugboard vs. the time spent on each plugboard. The new algorithm performs better than the original hill climbing at all message lengths.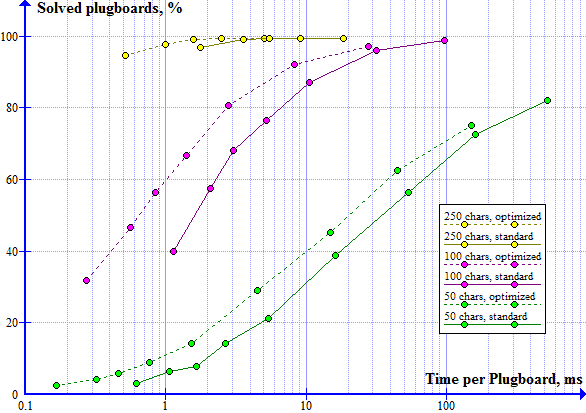 The plotted data in the tabluar form are here (sorry, I am not allowed to post url's here):

http://www.dxatlas.com/DxMath/Enigma/EnigmaSpeed.txt


The new executable for Windows is here for you to try:

http://www.dxatlas.com/DxMath/Enigma/EnigmaProject.exe.zip

Note that this program requires a unigram dictionary (included).


The source code of the modified enigma, (compiles in Visual Studio 2015), the testing application, and the test data are here:

http://www.dxatlas.com/DxMath/Enigma/EnigmaSolution.src.zip


Cheers,

Alex